This weekend was pretty much the end of the season for me, kind of good as I have a lot of weddings
/stag party fun etc coming up, and after the last one a couple of weeks back it took me a good few days to feel normal again, not conducive to good performances on a bike!
This weekend promised a lot in terms of potential, there was a 10 mile TT on the Saturday on a quick A3 course, and then the Surrey League Handicap Championship on Sunday which I'd done the previous two years with mixed success.
First up was the 10, the weather looked freakishly good for both days over the weekend, almost no wind on the afternoon of the event, warm at around 20 deg, everything was looking promising. From this event I wanted one thing, to do an 18, I'd not managed to thus far this year, mainly as I don't live near Hull, but I'd come close on Bentley and done a few other 19's along the way. The other goals would be less important given I'd decided to go for a few beers the day before, but I'd want to try and keep my new found nemesis, James Boyman at bay, and win the event. Having seen the startsheet I figured I'd only really need to beat James to likely win, but there was a strong field with Kevin Tye, James Lowden, Liam Maybank and a few other fast men riding, so it would not be a cake walk.
While warming up I saw Liam first who said it was really fast and he had one a 19.20 or so, which was a great ride. I then saw James Lowden who yelled at me "you're going to do a 17" – I was beginning to get nervous having had all these people say how fast it was! He had done 19 dead he thought, I was trying not to think about the usual gaps between us all and what I might do. Anyway I got down to the start, and got off to a steady start, annoyingly my legs felt a bit shit, maybe owing to riding the single speed most of that week on the commute, I think its a bit overgeared for hill starts etc, but they soon started to feel alright. It was indeed quick, my avg soon was north of 30 mph, I knew what I needed for an 18, so tried to keep the power as high as possible, I thought I should be able to do around 385W so was trying to hold it around there, but it was tough, at the first rbt I got a clear line from the right, but someone pulled out on me and then did not accelerate at all. My mum was actually standing on the rbt and snapped this photo of me gesturing the bloke to get a move on. It was pretty annoying, but on the way back I was back into good speed, but again at the same rbt on the way back almost the exact same thing happened, I again gestured they get going, but this almost certainly wasn't an ideal way of going as quick as possible.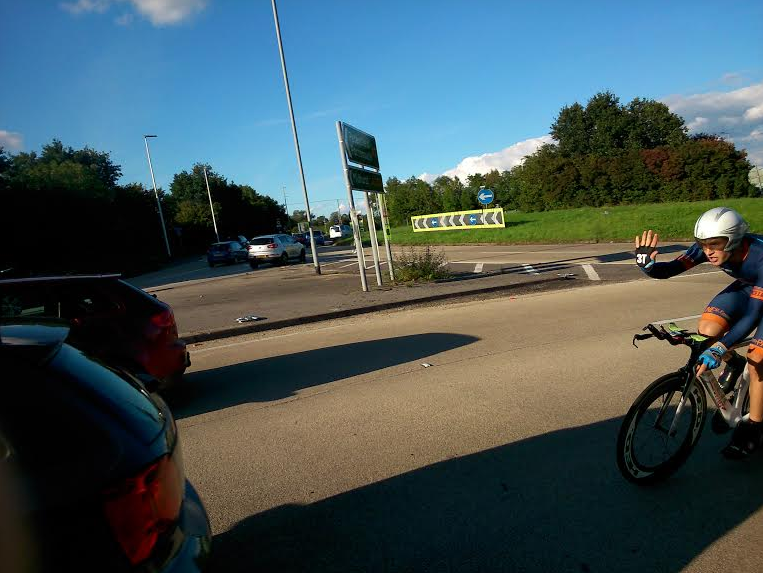 On the way back I really gave it my all up the long drag as the speed slowly dropped, my legs were gone, nothing left, I saw the avg power was below 380 and I knew when I crossed the line with 18.44 – a new PB by 2 secs that it would not be enough to beat James, my only surprise was that it was so close at only 7 seconds, with my normal power and a clear run it would have been a large PB, but these things happen, and it was a great ride by James who PB's by a huge amount, though only because he only rides Bentley, he'd have managed a short 18 in Hull earlier in the year otherwise. Anyway, we were the only two who managed to go sub 19, which was nice. A fast course for sure, more to come on there if I can get it all right on another good day next year.
https://www.strava.com/activities/395640134
Next up was the road race, I knew that I would have good legs, I don't have shit legs two days running usually, and though a ten is a deep effort, it does help open everything up (cycling cliche!). There was a big field of around 70-80, a 4 strong team from Pedal Heaven inc Lewis Atkins who has won it the last two years I think, I came 3rd in 2013 and was crap last year with 11th. The handicap format made it much more fun than a normal road race IMO, and in the last group it was a blast, flying round the lanes with 15 other strong riders, we were averaging well over 27 mph for the first ten mile lap. Race distance was 60 miles and the gap to the very front group is around 15 mins with many other groups in between them and us.
Its not an easy race as you have to ride or you will not catch the rest, with 2 laps left to go there was still a fair gap and people started attacking, bit odd, but I think it was a good thing as it gave the group a bit of impetus. It was clear that the only hill (which is where the finish is) on the final time through was going to be the point where something had to happen, sure enough Chris Mac of PH drilled it up there, Lewis on his wheel and Jamie on his, then me, then probably Tom Hargreaves not far behind. This came back together, and then I think Lewis went again, with Tom on his wheel and possibly another rider or two, I decided that this was the one given Lewis and Tom probably were best suited to the finish and looked strong. We started working well together but I found it hard to come through as Lewis was riding so strongly, though his surging through made it hard work, I tried to take as many turns as I could without totally burying myself and making sure we stayed clear. With maybe half a lap to go it looked like it might all come back together, but people carried o working and instead, another bunch of riders came over to make the group about ten strong, I couldn't see the bunch behind and now Rob and Jamie were present, this was good as they would be working for Lewis. Other finishers now in the group were Declan who I used to race at KW with, and Rich Cartland also who I knew could get up a hill pretty quickly.
Rob led us into the foot of the hill, I was a bit boxed in at this point, but Tom decided to put a sting in early, I read this as "right, they're sprinting already, you have to go" so I did, up the other side, straight past – initially I thought I had done it, I had got a gap and was still pushing the pedals, but I came round the corner to see Pat cheering, and the line about 50m further than I remembered haha! I looked back to see Tom with Lewis on his wheel, he opened it up again having played it perfectly and overtook me with enough room to get his hands up, as he did so I tried to go again but had nothing, only just holding off Lewis to retain 2nd. I was pretty annoyed with myself having done the hill 6 times in the race, but sometimes the heat of the moment gets the better. And the only way I thought I could beat Lewis or Tom was going long, like I had done at Palace to take a win from him in the summer. I think it was still the right option, but I went too early, no doubt. I managed around 840W for nearly 55 seconds, which is a fair bit more than I've managed previous. Still, 2nd wasn't a terrible result in a good field of riders.
That pretty much sums up the year, I think I need around 15 points for my 1st cat, but I'm not sure I can be bothered now. But I have the option to go to some late season races if I have a change of heart.