Been a while since my last update, I've been busy both on and off the bike, but wanted to get a few more events out of the way before updating, you know, to make it more interesting to read!
Some notable progression of late has included performances in 25 and 10 mile time trials, I'd done two events in recent times taking a new strategy to the table, Xav and I had examined numerous TT's of late and realised that I was going out too cautiously, this would be evident by the amount of power I was still able to produce in the last 5 or so minutes of both 25 and 10's, not a million miles from a 5 minute standalone effort in some cases. While I was still going quite quickly, it was clear that there was more to get out earlier in the event to make sure I was not leaving too much in the tank.
The issue of course is that in order to test this you really have to mentally accept that the event may be a write off if you blow up early, so I'd chosen a 25 on Bentley, and a club 10 on Holmwood to see what I could do. At Bentley the only competition really likely to be a trouble was John Dewey, he'd been beating me by 20-30 seconds in a ten of late, which is huge, right up towards the sharp end of the country. So in this 25 it would be interesting to see what I could do. I set off hard, and managed to hold on to the power throughout the event, I managed 370w for 49.36, John was still 30 secs quicker than this, but I was pleased to see that deficit come down a fair bit. With a few other changes I should be able to get a lot closer, which is promising.
The next was the 10, I'd been doing some longer sustained efforts in training, and reckoned really that over 400w should be possible in a ten, its mentally quite a hurdle as its a fairly lumpy number, and even riding over 400w on roadbike up a climb quickly starts to hurt both legs and lungs, but I thought it must be possible based on the 25. I rode my TT bike but with road helmet, winter wheels/tyres and such, after all there were only 12 racers! I started fairly hard and again just looked to hold on, the upshot was 405W for 21 mins, I was pretty pleased, this was a huge improvement over my previous best. And also on fairly tired legs. If I can eek out some more at both durations and implement the changes I to kit that I have in store, then I could well improve performances on a national level (probably not on the ten given the course, but 25 I hope).
The next event was one I was quite looking forward to, the Surrey League May 3 day stage race, three 67 mile road stages back to back, Dunsfold, Bletchingley, Edenbridge – flat, hilly, rolling is probably the most simple way of summarising the topography of the 3. We had a great team entered, Tom, Pat, Rich, Benoit, Dom and myself, all strong riders, and all capable of solid results at this level and more without doubt. The limit for teams was 6, and I was positive that we would have the strongest team in the race. And we did, the weather for the first couple of days looked fantastic so we were all keen to get racing! There were no set in stone tactics, though we probably thought our best GC bets were Pat, Dom and myself who had all proven to be competent over multiday events, but we remained open minded to any eventuality on stage 1 which would change how we rode.
Stage 1 – Dunsfold
This is a circuit I've ridden twice before as a 3rd, and then 2nd cat rider, the first was was first road race I ever did, I managed 9th, a year later I was a lot stronger and got into a 5 man break and managed to get rid of everyone on the run in apart from Paul Sewell who sat on my wheel to perfection and sprinted past to win leaving me to pick up 2nd. Its pretty flat with one small kick near the finish which is off the circuit but a 30 second uphill sprint. The finish had been moved to near the top of the hill which suited me perfectly, I'd have likely won if it was here back in 2013 vs 150m over the top.
The race was a fairly attacking affair to be honest, especially given it was by far the easiest of the 3 days, people were obviously not worried about saving their legs! Lots of moves went and came back and nothing looked to be sticking initially. The first move of any note in my opinion was when Pat of PL went solo at around the half way point, perhaps a bit before. I tried to make sure we were up near the front disrupting to allow Pat a good chance of staying away. At one point his lead was out to 45 secs and it looked promising, however as numerous other attacks went which we duly shut down, the gap began to fall, eventually after almost 3 laps of the circuit Pat was back in the bunch.
With perhaps 25 miles left to race there were lots of moves, I bridged over to one that looked good, only for everyone to sit up! I noticed then Mick Coyle moving up, age is nothing but a number I soon saw as he powered off up the small climb, having ridden many times in the past with Coyle I knew he was strong, so went with him, we quickly caught a lone rider who had gone off the front, there was 12 miles of racing left, we gathered a couple of VCM riders, and a couple of others, we were working well together and our lead went out, I was confident of this move and was committed to it, knowing the PL guys would do a job of blocking from behind. However, after almost an entire lap away, it was clear that it wasn't to be, Coyle said we should rest up and go again in the same place for the final lap, I agreed initially but thought that now would be a good time to go again, I left strong, so thought I'd have a go.
I went again, one VCM rider and a London Dynamo came with, we were going well, though Dynamo was sitting on, a bit odd I thought with 7 miles left to race. However all became clear when we got near to the finish line when Dynamo sprinted off up the hill one lap to soon…I made sure VCM and myself didn't make that mistake and we powered up the hill to take the bell 2 up. It became clear that I was probably the stronger rider in this move, VCM was quite honest and said that he just couldn't come through, and that when he did it would only be a short turn, fine with me, all I felt like I needed were micro rests and I would do the lions share of the work. That is exactly what did happen, and with perhaps 3 miles left we got told we had a 30 sec lead, which I thought was enough. I was debating whether to accelerate away before the line, or to ride it in as a 2up and use the hill to my advantage. I was sure I could ride away solo, but the legs were beginning to ache and it was day 1 of 3, so I kept with the VCM rider as we hurtled towards the finish hill. I flicked my elbow and was very surprised to see him happy to lead into the hill, perhaps he just wanted the gap knowing I would likely win the sprint, either way, no sooner had he done that before I launched the sprint up the hill, he didn't respond and I was able to cross the line alone with Jack 8 seconds back, and the bunch a further 10 or so secs back on him. With the finish line bonus I now took a 47 second lead over the main field into day 2. Not a bad start though perhaps now we would be under pressure, much like at the Tour of Sussex 3 years ago where I'd also taken yellow on day 1 only to lose it by a handful of seconds on the final stage…
The guys were all chuffed and said they did a lot of work to help me stay away, the first instalment of what would prove to be a very strong and unified team effort over the weekend, we now had a jersey to defend, and to Surrey Leagues credit, it fitted well!
Stage 2
With the first stage behind us, and a result that both was initially not what we'd planned, but more welcomed than I thought. It would prove to be an interesting day in Bletchingley. The circuit is renowned in the area for being a bit grippy, or if you're a slightly more well built rider, it could be described as rather difficult. I'd done numerous races on the circuit and had mixed success, but notably my only success came when one of the hills was taken out of the race due to roadworks, a slightly hollow victory to myself.
Today, though, there was no short course, it had all of the lumps and bumps that were intended, the plan was to try not to use up our firepower early on by covering every single attack but rather wait until the race got interesting in the back half before trying to use our strength to dictate. So, with one mile down, who else do I see on the front, warming up his legs than Paceline engine Pat Wright – I actually laughed to myself as only Pat would consider this normal behaviour with 130 miles still to race. Anyway, I left him to it. Soon though attacks began, I'd stuck a 28 on the back just to make sure I could tap away in the saddle up the hill rather than grind it up there and destroy my legs. Later Pat would tell me he only used the small ring once in the entire race, I reckon I shifted down about 30 times over that 3 hours! Anyway, the legs were feeling ok, but certainly blunted somewhat from the previous days antics. It was on this stage that the team really began to show their mettle, Rich, Tom, Pat and Dom in the early days were relentless, closing down anything that looked dangerous. It was especially impressive of the former two riders, one in his 4th race ever, churning away on the front like he'd been at it for years, and the other who rated his chances of even getting round the circuit at slim to none, yet able to ride down attacks of just about anyone and everyone despite being a larger rider, not unlike myself. And well, Pat was just Pat, always there, always hurting himself in the name of the jersey – chapeau and all that.
It was really with 1.5 laps to go that things got interesting, gaps were forming over the hills, and it was now time for me to really make sure I could back up the teams sterling work with some strong riding of my own, I rode down a large move myself (well bridged over, but it came back together eventually) as we got the bell, it hurt but I knew I had to do it. The final time up the big climb, it all went mad, it was at this point that I saw Benoit, I'd not ridden with him prior, but was glad to see him come through over the steep hill to guide me to the latest huge fracture in the bunch, he flicked his elbow with only me on his wheel, I asked politely if he could get me to the beginning of the highstreet and I would do the rest. He did that, and did it well, he later said of how he hid in the wheels most of the race, I said that while the turn was shorter, it was every bit as crucial. Once on the high street I hit it hard to get over to this splinter group, I did, though again it came to not a lot, but the peloton was at least now fragmented. Time gaps were on the cards. With one final kick up to the finish it was now or never – at this point Pat, not satisfied with being out most of yesterday and doing about 93% of todays race on the front fancied a go with one other, I was happy to let this gather steam, it would at least mean some other teams would have to chase, and they did as they know Pat is fairly dangerous on tough circuits. And tomorrow was another tough circuit. Approaching the final climb it wasn't to be for Pat, meanwhile a couple had escaped off up the hill, my legs were screaming at this point, the race was in bits, I passed Pat up the hill as he shouted something – I kept it in the saddle bit think in hindsight I should have slung it in a big gear and just gone for a full on sprint up that hill as while I did close down a fair few places (to finish 9th about 10 secs back from the winner from Army CC) I would have liked to have been closer, but it was not a bad result.
It was at this point really that others began to praise us for the work we were doing, I'd heard numerous comments and what not through the day, but there were many folks actually approaching me and others to express their congratulations for not just a decent result to probably retain the lead, but in how drilled the team was, it was a nice feeling, and though none of the other guys got much of a result on the day, I could sense that they felt positive and part of it. Certainly in the reports from Tom and others it would seem that being part of something with an end goal staged over multiple days is as rewarding as winning a race on your own. A job well done, we would later learn that I would take 12 secs lead into the final day thanks to the win bonuses on the line.
Stage 3
Not a circuit I'd ridden before, I'd tried to, only to be told of a last minute cancellation due to roadworks. The reason this isn't altogether surprising is that this circuit is around 15 miles long, certainly one of the longest that I race in the SE, and makes Dunsfold 7 mile loops look more like a town centre crit! Sadly the weather wasn't playing ball, and rather than clear blue skies and low wind, we were faced with grey drudgery much more akin to Feb than May. The guys as you would imagine were less than positive about their legs on this 3rd stage, apart from Pat, his legs were fine. However I did try to insist that sometimes despite what your muscles feel, you can produce things you thought impossible. While we were not looking for any great feats of human endurance today, we did need a few riders with reserves to try and stem the inevitable flow of attacks that would come from what I saw as 4 other main competitors and their respective teams. Kennet of PMR had ridden to a strong 2nd place at Bletchingley and was in spitting distance, and the winner of that stage from Army CC was now very close. And of course Freeman from the 2 up on day 1 was also in the mix.
We'd decided (a bit like yesterday) that we should not use up all our firepower early doors – there was a plan, Pat wanted a shot at the KOM jersey and said he'd take off solo a lap or so in and see how that went and then we'd assess based on the outcome of that. After about 30 yards of racing it began to rain. Great. It was clear that while this circuit wasn't 'hard' as such, it was going to feel hard on the 3rd day – anyway, next thing we know Pat is up the road, however, slightly concerning was that another Army rider had gone with, with a 3rd who I forget. The army rider was in the points jersey, and I soon told that if he won and they retained a decent gap, he'd likely win the overall. It was at this point about half way into the race that the guys were asking me what we should do – I rather feel like the Army boys are probably better in situations where giving orders to other people at key points are critical in getting shit done, but I expressed my opinions nonetheless, hopefully in a way that was not rude, I didn't want us to lose this bike race. Pat and co now had 90 seconds on the bunch with half the race remaining, surely the points jersey would be able to outspent Pat, who can ride all day, but if there is a break of 3, unless he can drop them, you'd probably bet on him getting jumped (sorry Pat :P). I'd overheard some prat behind mutter "Paceline, undoing all their hard work yesterday, throwing it away" I muttered back that we'd only done 25 miles, and there was much ground to cover.
It was now time to bring this one back not after Kennet had a go on his own, I shut that one down with Dom – after that however I called for the guys to come through (insert your own, Squad Assemble meme here) and begin through and off, we all swapped turns, there was no shirking, I was as much a cog in this as they were. I thought later about how that must have looked, the front of a group of 60 riders, everyone just sitting back watching 5 guys ride a team time trial to bring the race back into their favour. It worked, we were flying, we brought down that gap to about 20 seconds in no time, we let up a bit as it was clear it was going to come back. Pat dropped out of the group and we set about business as before. It must have been about 3 miles later with just over 15 to race, I hear a ticking noise, I look down to see where this horrible noise is coming from, and then hear a sound nobody wants to hear at any point, let alone while riding the final stages of a race – my rear wheel pins a spoke, bollocks. I quickly gesture to the guys that my spoke has gone, everyone pulls over, Tom offers me a wheel but the neutral car is almost upon us, so I decide to wait. At this point something fairly controversial happened, we all hear shouts of attack, and the pace upped noticeably, I didn't think much of it at the time as I thought if the change was quick we could get back on. Alas the change was not quite as quick as we would have liked, and it looks to have cost us around 80 seconds in total, we get back on the road and set about chain-ganging back on to the bunch, we work hard, my legs are really beginning to feel it, Rich, Tom and Pat still so strong at this point. We pull and pull, but as time goes on its evident that we will not see the bunch again. A sad reality really, we stick together and roll over the line probably around 90 seconds or so down in the end, spirits are low. Turns out Stan Kennet had won that stage and the overall, a 2nd, then 1st was testament to how he rode, consistent and strong, congratulations. It was a bit of a bitter pill as the top few were actually the same top few as the day before the the notable absence of myself.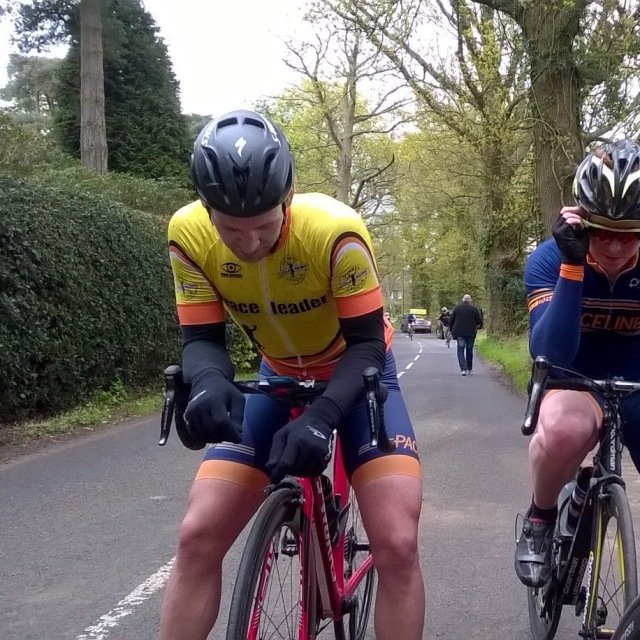 We got back to the hall and many riders tell us what went down and who dun it, as it were. To be honest its of little interest to me to name and shame, but what I will say is that there was ten hours of racing to attack, to do it then and still end up with no riders in the top 10 is a little bit bizarre. But that's the way it goes, some people are generally pretty decent about things, some are not, no reason to suggest that everyday life should alter when everyone gets on bikes.
I haven't even bothered looking at the results to be honest, but what I will say is that there was one winner in team spirit over that weekend, and that was us. All of the guys and myself included would have liked to have capped it off, but it doesn't feel like a loss, it feels like a victory in all but BC points. Just as I wrote this last night in fact one of the Army riders got in touch to say how impressive we were as a unit and how gutted he was about the outcome, says a lot about what happened I reckon! So I'll thank the team once more for their efforts, and onto the next one! I actually start a new job very soon, and am likely going to be very busy with trips abroad and what not, but hopefully we can show ourselves again at the Tour of Sussex later in the year. All rides on Strava as usual. Thanks to Keith Lea, Gary Wyatt, Glynn Durrant for the pics.