Been an eventful couple of weekends race wise, I was really happy with how I was coming along, and had a couple of events I was keen to test myself on.
In time order then, the first thing after my 4th place at palace the other week was the annual Redhill CC road race, 82 miles of mostly quick road with a small rise each lap. The previous year was eventful for the wrong reasons sadly, firstly I got a puncture at the 30 mile point and couldn't get back on as the weather was so bad the neutral car couldn't pace me back quick enough through the corners! And secondly because some pratt scattered drawing pins all over the finish area which ended a lot riders day and could have been really dangerous.
Anyway, this year promised to hopefully be a good edition, a stronger field to be fair, full showing from Pedal Heaven, Trek Richardsons, and a smattering from other teams like Catford, (us, we had 3 riders! and a few other individuals who were ones to watch, Tom Bayliss from One Pro being a good example of that. We had myself, Dom (former Redhill club member) and Cameron who had been racing down under and was looking in good shape. The idea was generally to make sure that if something was well represented by the big teams, it would be worth following.
As is common in these races, 10 riders went up the road from the gun, but it wasn't that well represented by PH, and it was an 85 mile race, so I was happy to let the race go on for a bit before making any choices. It didn't take long before the usual suspects got a bit restless and around 20 miles in I followed Rob Moore and a Trek rider up the climb ( I really hammered it up there, the fastest anyone has done it apparently!) to go over the top as a 3 up, sadly this didn't come to much for one reason or another. I was a bit worried about burning too many matches early doors so sat in and only followed things that looked worth doing so for the next lap or two. At around the 35 mile point again another move went which looked good, before coming back, this time I thought it would be worth a dig as though maybe I'm not quite as unknown as before owing to my TT times, I still don't get chased down like a PH or One Pro rider would be, so I nailed it off the front, and started regretting it straight away as it hurt haha! However, I kept at it and soon enough I was joined by a familiar face in Rob from PH, to be honest, there are not many better people to join a move than Rob, he's stupidly strong, and offers decent draft, I waved him through after a bit and he drilled it. I think I gave him a couple of turns over the next 5-6 minutes as he was going so hard.
It didn't take long before we were well out of sight and there were specs up the road,which were the remnants of the early doors break, at first we caught a chap from Danny Shane (Phillip Peters I think) and Rob McCarthy of PH, we then were joined not too much later afterwards by a few more from PH, Mitch Webber, Chris Mac and Lewis Atkins, how they all got away I don't know, but it was a welcome sight as I knew it would bode well for the chances of this break having them all involved. We shortly after got a Trek rider and another from Nuun (perhaps?) and were around 8 strong, but not everyone was coming through, some people were totally frazzled and I was conscious that though I felt good, there was still 35-40 miles remaining of this race. I did a bit of work but it was so disjointed that we never really got a through and off going for more than a few minutes.
Fast forward to around 20 miles to go and we could see the last riders up the road, we now had 2 Trek, the One Pro dude and most of PH and a couple of others, around 11 riders. However just as things started to look up, the bunch was on us, it was quite a quick turnaround given apparently we had two mins at one point. Certainly our reluctance to work properly as a unit contributed to the gap falling but we later learned a few riders from Catford had been drilling it on the front to bring the move back to stop another PH domination…
With one lap to go things got really dicey, and George Wood looked like he wanted to make something happen, he actually got away with Dom from Paceline for a bit and Dom later said he thought George was struggling as he would come through then drop off and generally wasn't that smooth, George then went on his own, we didn't see him again, crazy strong ride from the dude, he is showing his talent for sure, his Prem Cal results obviously making these races a walk in the park for him. Into the last lap I was quite keen on my position and the finish suited me, as ever with 1km to go the pace went mental and people were everywhere, I really don't like it when its like that but I was still keen to get a result given the hard day out, I was in a fairly decent position when two riders crashed in front of me sending on of the Trek boys into the ditch (to smash his bike to bits, he was ok though), then I was well back, I sprinted through and still thought I could salvage something, and crossed the line for 12th. Not the result I feel like I could have got, but not bad considering.
My legs felt really good and they still had a bit of zipp towards the end of the race which was great, the NP for the race at 345W was higher than any I've done, which is more evidence to me that I am stronger this year than I've ever been.
https://www.strava.com/activities/329407335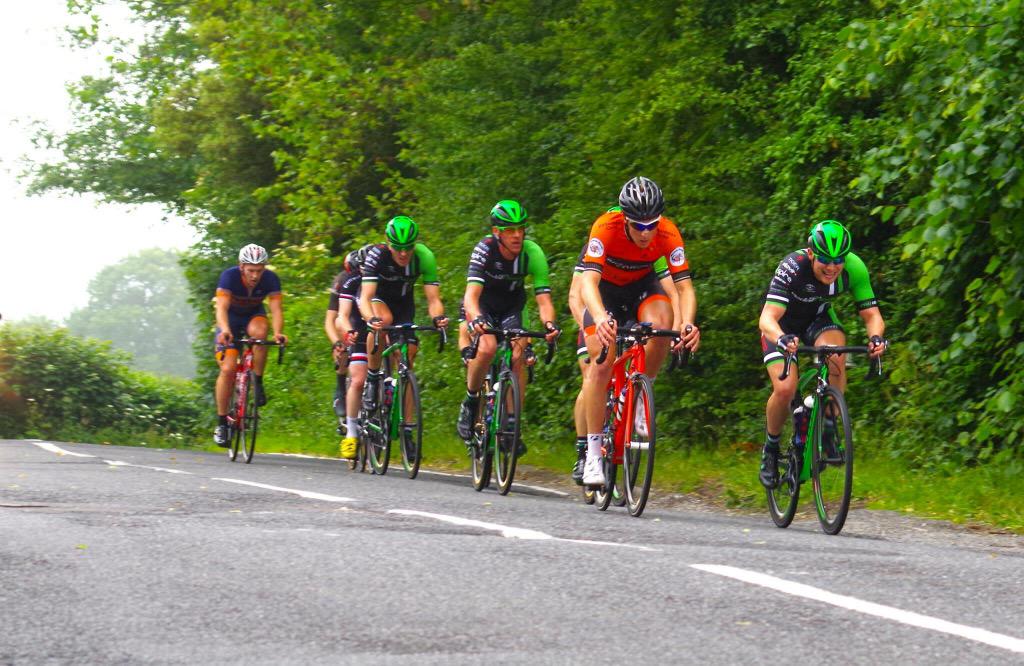 Next up perhaps foolishly was less than 15 hours after this race, and it was the first of 2 Richmond Park TT's this year, I'd won the last 4 in a row, so was keen to try and continue with that trend. I knew the field was of similar quality to last year and though I thought I would still likely be the one to beat, its never a given, and with a really tough RR in my legs it would change everything as I'd always previously done this event on fresher legs.
I was last man off which for this event means 7am, I knew it takes about 16 mins from my front door to the startline as I ride it most days on the way to work, so I set the alarm for 5.25am and was on the turbo by 5.45 warming up, I was off the turbo by 6.15, got some last bits together and set off for the park, got there too early still but I hate not allowing room for error… As I came in I saw 3 Paceline roadies in a row all going well, it was set to be a good event!
As any of you that frequent the park will know, the wind is basically the determinator of fast/slow times, today was a medium strength SW wind, not good (despite the twaddle Cycling Weekly posted this week). But it was warm and the pressure (we are all pressure experts since Sir Brad's hour attempt!!) was low, it would be OK. I knew that generally I was around 10-15W up on my TT bike over last year, and amusingly I had done this event 3 times previous and averaged 364W every time. With the legs the way they were I was going to set off at around 25 mile power, which is just below that and see how it went…
I got down to the start and in my haste realised I'd not reset my Garmin so instead of having all the info I usually do, speed, NP, AP etc etc, I only had the lap field which had nothing on speed, just watts and time…! Panick set in, but soon I didn't care, I actually caught my minute man after about 3 minutes, which gave me a mental boost (sorry Craig if you read this), the hill was slow as predicted as headwind, but I got up there and back down into position, I then passed a few more riders, and clocked Stu Spies who I thought would be my main competition, I passed him and noted the gap between when he went by that tree and when I did, he was my 2 minute man, and from that fag packet calculation at the half way point there was nothing in it…Stu was going well!
I got up to the long downhill where the wind would push me along, and I flew down there, over 40mph at nearly all times, it felt odd to be going down there so fast, I got to the penultimate turn and I thought a quick time would be on the cards so proceeded to push my achey legs as hard as they would go, and then drilled it up the final climb. I pressed lap at 22.49 but possibly started it 1 or 2 secs late, I knew it wasn't enough to take the course record from Hutch (22.38) but I though I would be close, I'd managed to do 368W despite the legs, so I was pleased, looked like I would be between 25-30 secs faster than before that again proved to me I'd make big aero improvements to add to a small increase in power.
I got given an official 22.58 which I think is probably a few secs out, but it was enough to win from London Phoenix rider Gunther Zechmanng who was around 15 seconds back, really strong ride, and then Stu Spies in 3rd around a further 20 secs back.
https://www.strava.com/activities/329721953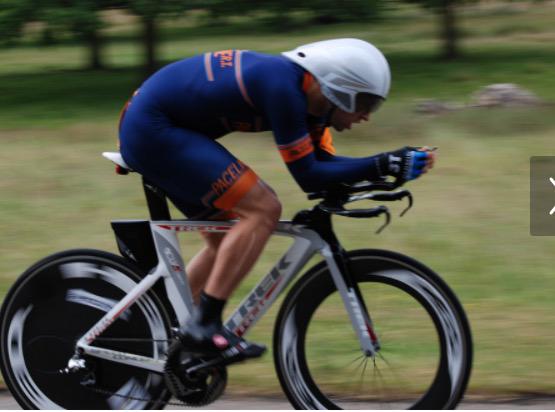 Lastly just a couple of days back I did another Crystal Palace crit, Xav had said not to expect too much from my legs after a hard weekend, but I was still keen to have a go, not least because I knew Rob Moore wasn't riding and thought I might be able to get a look in. Xav was proved right as I found it quite a bit harder than previous weeks and the numbers were down, but I felt OK. A few moves came and went and I put in a big effort at one point to get over to a move that was then brought back. Lots of attacks and as usual Dulwich and Dynamo had numbers, and Kendal Noctor was looking lively as were the usual culprits from VCL in Ethan Hayter and Fred Wright.
My plan for this race was to attack around 20 mins from the end and try and go alone, got to that point in the race and my legs said no haha. So with one lap to go I noted two riders in Paul Sewell and later Ben Knapp go for a last ditch attack, they got the gap and it looked promising. Knowing I was pretty pants at sprinting from slow speeds (hair pin corner just before the line) I thought my best bet would be to attack around 45 secs from the finish, so out out of the bottom corner I gave it a big effort "up up up" is all you hear when you do that as everyone tried to jump on. I got it a bit wrong as no sooner had I got up to 30mph or so I had to go wide to get round Ben who was still out front, but instead of going round I sat on his wheel for a short rest before the final corner, looking at the photo's I think that kick had created enough of a split in the bunch and I think it was just me, the two VCL boys and Tom Hargreaves of Dynamo, we we dived into the last corner I thought my only chance to beat Ethan was to go first, so I drilled it out of the corner, all was well, I then needed another gear, as I changed down Ethan came by me at comical speed, some kick that boy has, and on the other side Fred just pipped me to 2nd! So I had to settle for 3rd, my best result but still a bit annoying, it was the closest I had come but was beaten on the day.
https://www.strava.com/activities/331539319